When I was seven years old, I was diagnosed with dyslexia. I was very lucky to be diagnosed so early, as there has never really been a time when I didn't know I was dyslexic. Unfortunately, though, I have very often had to fight to get the help I need to do my job or studies, and it has been exhausting! I had some excellent teachers, and my parents were always there to fight in my corner again and again, but there were always the people who said I just had to "work harder" and "would always have to". Being the sort of child who wanted to please, I took this to heart and did just that. I did nothing but schoolwork for my GCSE and A level years. It was pretty much the same through my university years, but with doing lots of exercise and a bit of volunteering. It was when I moved to Nottingham to do my MA that things really came to a head.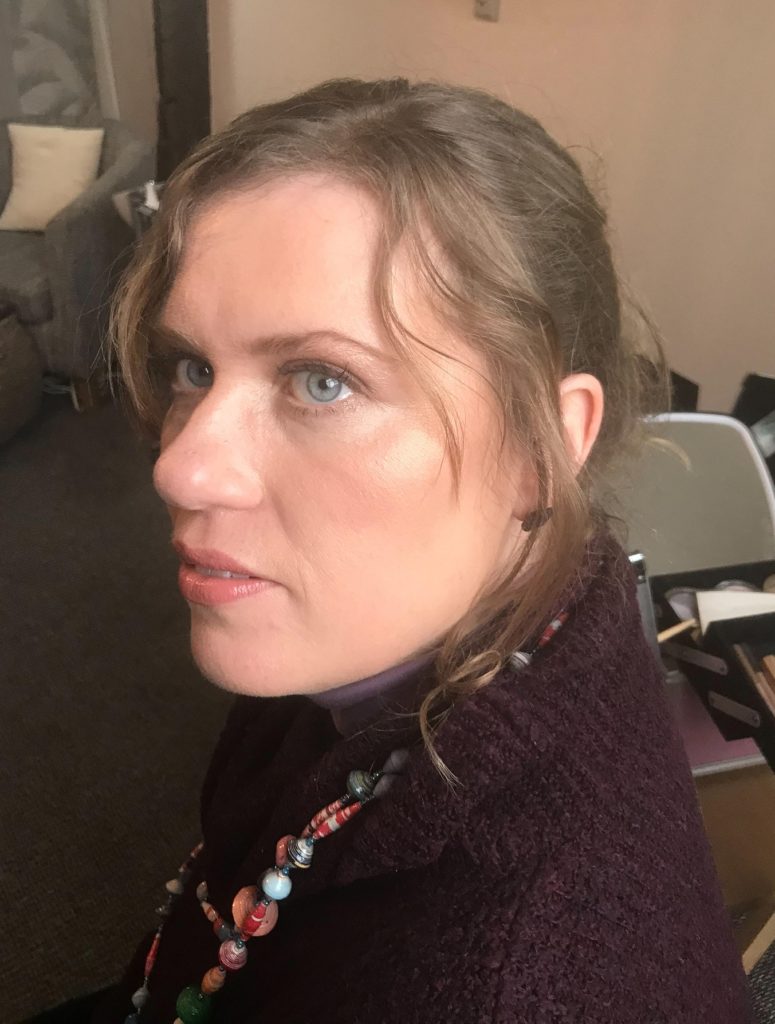 At full pace
The first Christmas I was there (2010), I got a serious ear infection which I did not deal with in time. I was in great pain, didn't know exactly what it was or what to do about it. When I did eventually go to a walk-in medical clinic, the nurse said she had never seen an infection "quite so big!" This I believe was the infection which heralded the being of my ME/CFS. It was also in Nottingham that I discovered volunteering in a big way. I discovered that feeling of being needed and loved being asked to take on more and more, I never said "no" to anything.
I just kept going – I didn't know how to do anything else, or function in any other way
At the same time I was just finishing my MA and starting my working life. During this time, I was also having what my flat mate used to call "crash and burns"! I would go and go and go at full pace and then be so ill I could not get out of bed (sometimes for almost a week), and even to move was painful. There was one day when I slept to 6pm! The pain continued to get worse every time, and the times of feeling well were getting shorter and shorter. But I just kept going – I didn't know how to do anything else, or function in any other way.
Couldn't go on
I had just started in a new team at work which was very target driven and required a very rapid turn of work. The team itself was also in quite a state, and the atmosphere was toxic. The first Christmas I was there, four team members where signed off sick, I was the fifth. I remember standing in the office and my manager asking me questions, and all I could hear were words, but they didn't really make sense. My brain was closing down, or at least it felt like it. I would dread having a meeting or going on a visit, as I would have to climb the stairs, and that was agony, and when I got to the top, I would be so exhausted and in so much pain I could not concentrate on my work. Stairs were also a problem at home, and there was more than one occasion when I would have to go down on my bottom, as it was just too hard to get my legs to move up and down, they felt as heavy as led.
I would dread having a meeting or going on a visit, as I would have to climb the stairs, and that was agony
The week after that I had a "crash and burn" I just couldn't get up from. I was able to take a week off, and then in the UK you have to have a sick note, so I went to the doctor. It took me 30 minutes to cycle the 5 minute trip. When I eventually got to see the doctor, I sat in her office and just cried. I couldn't go on any more. She was really supportive and seemed genuinely glad that I said I would take the four weeks off work that she offered me. I was incredibly grateful and relieved.
It took me 30 minutes to cycle the 5 minute trip
During my four weeks sick leave, things did not really improve. My nerves stopped jangling a bit, but I was still in a great deal of pain, and was not able to do very much. I even had a special massager for my muscles, but to no avail. At the end of my sick leave I went back, and the doctor extended it for another three weeks. When those three weeks where up, I went back again and she extended it again for a further two weeks. I was however getting the feeling that she was not happy to do it and thought I should be going back to work. So I did… I lasted less than a week.
Diagnosed with ME/CFS
I found myself back at the doctor's in a worse situation than I had been before Christmas. Having gone off sick twice in so short a time meant I was forfeiting my sick pay. But this time providence was on my side. Instead of seeing my usual doctor, I saw a locum who diagnosed me with ME/CFS and referred me to the ME/CFS clinic. I felt so poorly and so out of it that I did not realise at the time, but the end of "being ill" had come, and I had started on the long, hard road to recovery. There would be many twists and turns, ups and downs, but I had at last begun.
For the next couple of years I was really quite ill. I could not do very much and would tire easily with the accompanying flu like symptoms and brain fog. I attended the ME/CFS clinic at the hospital, and although I felt as if I was "doing something" to help myself get better, it was a slow process which eventually ground to a halt. During this time I spent a lot of time with a friend who also had a diagnosis of ME/CFS, and she recommended an alternative therapy which was also helpful, but not the breakthrough I needed. All I was doing was "pushing through" again, only this time I did not have the opportunity to do it to the same extent as before. I had gone back to volunteering, which staved of the boredom, but there was no way I was going to get better enough to go back to any sort of employment. But still I started to apply for jobs.
Back to square one?
On the 27th October 2017, I started working as a receptionist in Lancaster. Things started well, but my same old "crash and burn" behavior started creeping back, and so did my illness. I had quite a few periods of illness as well as sinusitis. I had a bit of trouble with a co-worker, which did not help, so when Covid-19 and the first lockdown came and the organisation decided to close until that August, I gratefully took their offer of furlough, and went back home to the Midlands.
During my time in Lancaster I had also taken work with a fostering agency based in Northumberland. Part of this was volunteer, part paid. The volunteer part of this continued through lockdown, but the paid part of it never really took off at all, so again I was unemployed. I was really back where I had started when I was first diagnosed. But soon all that was going to change!
Engaged
In September 2020, on the recommendation of a friend, I joined a dating website. On the 27th October I had a first date with someone. We got on really well and continued to see each other, liking each other more and more. On 17th June 2021, in the same place we had our first date, he asked me to marry him. We then went on an absolutely lovely long weekend to Scotland. It is now all hands on deck for both of us with wedding prep!
I lasted about a month in the job when I was forced to leave as my health was quickly deteriorating. I felt extremely guilty and as though I had failed again
In August of last year I moved in with my fiancé in Coventry and started a new job. Again things fell apart. Looking back, I don't think I had really recovered from the trauma of my previous experience. I had put myself back into exactly the same situation which had exasperated my health before. I was unable to manage the stress and demands of the pace of the work, even though we had this time put some simple life hacks to try and make life easier. I lasted about a month in the job when I was forced to leave as my health was quickly deteriorating – to be honest, this time though, it felt my head was unraveling more than my body. Even though I was very ill, I still felt extremely guilty and as though I had failed again.
Recovery Norway
I started counseling, but it was not really what I was needing. I needed something that was going to help me manage my mind-body connection, not just my stress. I was really desperate to get better and start the next stage of my life, getting married, being in a new city in a positive way, but felt so trapped and held back by my illness. I had heard of the Lightning Process before, but was reluctant to spend so much money on something I had heard mixed reports about. Or perhaps I was just not ready for it until now! Right on cue a relative sent me a link to this website. I emailed, in English, and asked if there was anyone I could speak to about my experience and concerns. I was put in touch with a lovely lady, and I was so thankful for the people at Recovery Norway for their hard work finding me another English speaker!
I had been doing my own research into the Lightning Process, and my chat confirmed what I was already thinking – that I was ready to give the Lightning Process a go.
The Lightning Process
So in November 2021 I took the Lightning Process online, and it was brilliant!
The Lightning Process is a program which gives you the skills to change your thinking and use the mind-body connection to improve your health and the choices you make day to day to enable you to live the life you love. The Lightning Process uses the neuroplasticity in the brain to build new positive feedback networks in the brain.
I was no longer struggling to get up and down the stairs, and on day two I even went swimming!
My fiancé said he saw a change in me immediately. I was no longer struggling to get up and down the stairs, and on day two I even went swimming! Not only did other people see the change, I felt better. In fact, I felt the best I had in years!! The practitioner leading the course took us through the Lightning Process showing us how to use it on issues such as my fear of driving. This was a really freeing experience, as I now know how to manage the anxiety which is what was really holding me back, not my ability.
The Lightning Process has made a really big difference in the way I think, feel and behave. Now instead of thinking "what must I do to be accepted?" I think "what must I do to be true to myself?" Instead of feeling guilty and tired out, I feel confident to live my life, because I now know how to manage my emotions better.
Instead of feeling guilty and tired out, I feel confident to live my life
The biggest change the Lightning Process had for me was that it gave me a framework through which I could change my thinking and behaviour. I had known for years I needed to change the way I did things – the Lightning Process is now the way I make that change. It is becoming part of my everyday life and thinking. Whenever I feel I am heading towards anxiety or illness again, I do the Lightning Process and I am able to turn the situation around!
Getting my life back
So where am I know?
I took the Lightning Process at the end of November, and as it was so close to Christmas, I enjoyed the preparations and found it so much easier than I had in a long time. I decided the beginning of January would be a good time to start looking for a new job. But on the 2nd January I came down with Covid! It was a bit of a setback, I felt dreadful and it did take me about three weeks to get back to how I was, but when I felt better, I continued looking for a job.
I also applied to volunteer with my local food bank. Instead of sorting food parcels I was asked to take part in a piece of research from the Trussel Trust. I am really looking forward to this starting, as it looks like a really interesting piece of work. Also about the same time, I had an interview for a job to work with adults with disabilities. I am happy to say I was given the job! I am also starting a hypnotherapy and counseling course in September and hoping this will be the start of a new career.
I am beginning to feel I am getting my life back. I am beginning to feel useful again, involved with my local community and able to give something back to others. But now I realise I can do it without feeling totally overwhelmed by it. I am going back to work part-time, which will give me time to plan my wedding, have a massage or simply sit in a cafe and read the newspaper. I really do feel now that I could be on the way to living the life I love, and this time I intend to enjoy it.