First: The benefit of hindsight
The last day at work I had was October 20, 2015. I ran empty of fuel on my way back. Quite literally! Back from Oslo after a fantastic week with the entrepreneurship that was consultant to Obama. A well deserved long weekend at the cabin was already arranged. The endorphin rush after weeks of lectures and facilitating events. The voluntary forum for entrepreneurship activities is in the box. A wonderful entrepreneur week at the Oslo Innovation Week, lunch at the Skaugum estate with the crown Prince, hosting one of Israel's most efficient networkers to connect expertise, innovators and investors. Working under the radar to ameliorate the effects of the crisis in the oil sector.
Everything was happening simultaneously, and I was on a roll.
On the way to the cabin I realized that my vintage car was serious about the empty-tank warning. In the days followed I realized that the same was true for my body as well.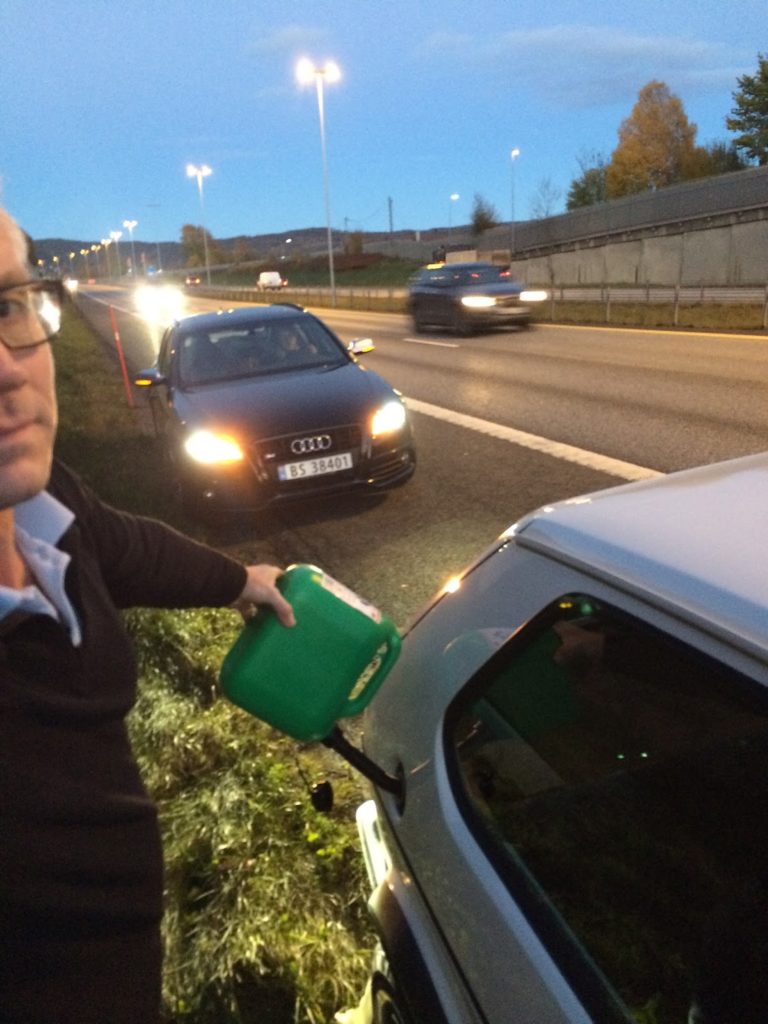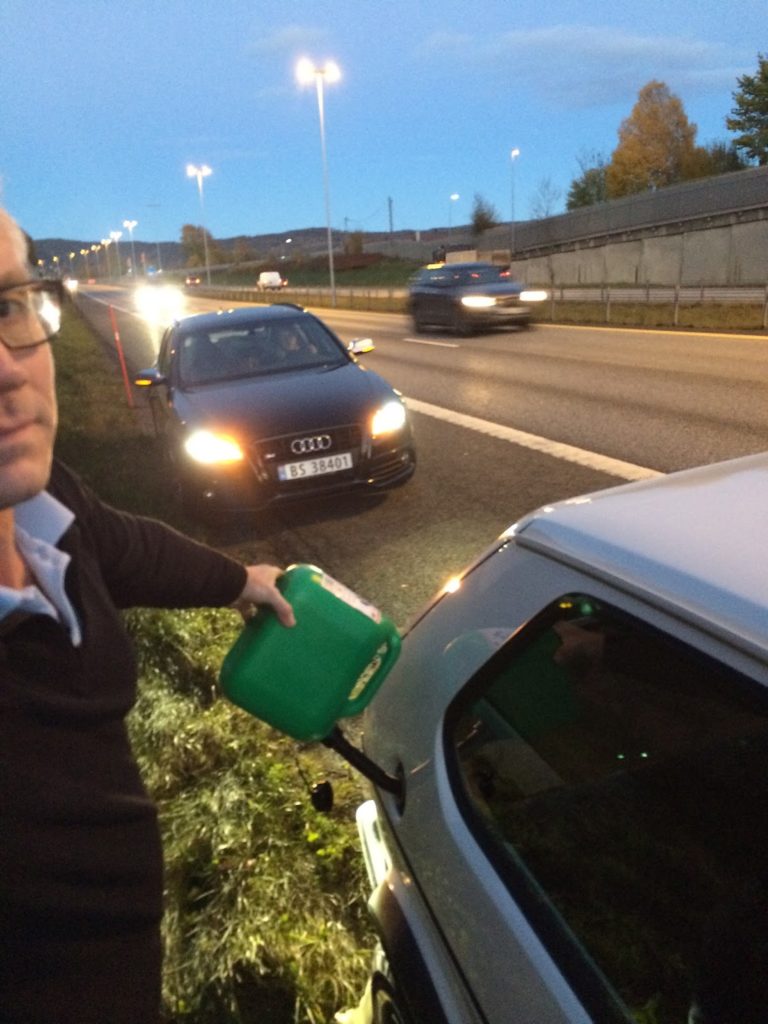 Today I consider myself healthy. Next week I will start to work at 40%, then 60, and soon 100%. The plan is to stop there. It's going to be like a new education program and will demand more wisdom from me than the challenges I have met earlier in my life. So far, the challenges had unfolded more or less on their own, with me drawing endlessly on my resources. Now I need new skills.
I am writing to gear myself up for the days and years to come. Maybe there is someone reading this, who finds parts of my story useful. This section is about the time before I worked myself to the ditch, shattered my nerves, ended up burntout, or whatever metaphor you would like to use. Next section is about how the ditch was made when I drove myself into it. Along with some experiences from the forced social exclusion and the road back. This is about what I see when I look back to the signals before I ran into the ditch, because I would like you, who has not yet gone down, to learn from my experience. Because the countdown always comes to an end, and with it, the crash. For you, it is foresight. For me, it is hindsight. Hindsight is often used as a euphemism for wasted time and energy. As usual, wisdom comes late, and I would never play down my own experiences as just being in or out of balance.
Let me add a small, but essential, parenthesis here: my story is not unique. On the contrary, it is very ordinary. It is not even extremely serious. Many whom I appreciate or interact with have experienced challenges far beyond mine. Chronic illness, loss of near and dear… set against those, my story, and similar stories of others, are narratives from the lucky side of life. Yet, it is not so easy to hold on to this perspective intellectually or emotionally when the colors are draining out of your life and the descend into darkness seems never ending.
Back to a navel-gazing metaperspective: Nobody runs into the ditch one fine morning. The ditch doesn't rise up to you out of the blue. It gives you enough warning, in advance. Before you know, you are in the hospital with appendicitis, for example. Accidental? I am beginning to call into question what we take to be accidental in our lives. Most of these present us with causal links that we do not recognize. We, instead, choose to believe in the easy explanation: that we are hit.
I wasn't hit by anything. I caused it. The body did try to caution me for a long time, for an embarrassingly long time, really. But I did not want to listen. I did not want the consequences of it, anyway. It would have challenged my self-image, I am built to endure, to be tough and strong. Who challenges their self-image without the help of a crisis?
I am so blessed that I grew up in a good family with parents who always believed in me and cheered me all the way, older sisters who shared their wisdom and knowledge with me generously, so that I could advance faster than others. Just before I celebrated my 21st birthday, I had my second wedding anniversary, had finished engineering studies and mandatory military service done, with two years' work experience on the side. It was time to set a faster pace!
You will find on my CV: 15 years with Hydro, stationed abroad twice with the family, and in my free time, I worked with the children and youth wing of the Methodist church for ten years and lead the sports association for five years. There were sleep problems and chronic head aches which my doctor connected to my lifestyle. I denied. But I knew that I had to get a grip on it and I quit my job where I was responsible for annual purchases worth 2.9 billion Norwegian kroners, to take up the management of an entrepreneurial venture. We had an average growth rate of 28% for the next seven years and were a Gazelle company for four years in a row.
I was also serving as the chair of the board of a cluster of 100 companies in Telemark at the same time – I was sucked into that voluntary program and spent more than a day work every week on it. I was also serving as the managing director of a cluster of 100 companies in Telemark at the same time – I was sucked into that voluntary program and spent half a day every week on it.

I knew that my health deserved a change in lifestyle because the symptoms simply refused to go away. I promised myself that I would come out once the company becomes fully operational.
I took a break for a few months and sorted out my thoughts and feelings, while working my socks off to get a new entrepreneurial project off the ground in Crete. My pride convinced me that I should get those skilled individuals to go together in the same direction. But it was not to be! Still, this was perhaps the most important experience I took with me to Innovation Norway. When the job is to help others to reach their goals, experience of failure is an advantage. Innovation Norway is the governmental organization helping entrepreneurs to succeed, and success is always linked to risk. Risk are linked to failure. Failing fast and cheap is a part of the formula for any successful entrepreneur.
Until Innovation Norway, the way I perceived myself was exactly as I had put it in my CV – delivery assured. I had to tell my manager after a couple of years that I had removed that sentence from my CV. If it was true before, it was not now. The work ethic in this state-owned benevolent company was everything to everyone, all the time. I realized that I could not reach a level where all the emails were answered, where the head office and colleagues all got what they wanted and contribute simultaneously to the most important task: the work outside the office with the business community and benefactors. But – wasn't it fun! And I was so proud of my team after roughly three years of changes that I still get the quivering pleasure whenever I go into the Telemark office.
Wiser men would have learned their lesson by now.
I wondered if it isn't time to just surf with the tailwind for a while. Work with tasks that are meaningful, with people I like, at a place where our efforts are appreciated. But when the phone call came from the head office, asking me to take over as the HR director, it didn't take too long for me to declare that "this is a long and steep climb to the top, the company is to be reorganized in the coming year under a new CEO – this is totally my thing!"
My health at the time? I had a couple of new red flags: eyes and stomach. A dear colleague told me about my eyes, "maybe you are just tired, Bård!". Me, tired? What strange notions people sometimes get in their heads.
As I write this, it is almost half a year before I run myself into the ditch. My body tried to stop me after a while. The joy and pleasure were replaced by a feeling of being in a wrestling match with the internal forces that did not want changes. As the new CEO took charge and the changes got moored into the company, I stopped feeling alone.
Then I lost my job as the HR director. The new CEO had other people in mind for the position, I learned as we sat together to etch out the leadership structure under her. "What would you like to do?", she asked with a smile. We still had a long way to go to get the reorganization of the managerial group in place. So, I put on my happy face and went around as the HR person for a while more, without telling the other frustrated managers who felt unsafe under the new leadership, that I was also in the same boat. To the CEO, my answer was simple: "I would like to work with entrepreneurs". And I did get that role. To build up a new division for entrepreneurs was, and still is, in my opinion, the best job at Innovation Norway.
I raised the bar even further while my body cried out for mercy. The summer holidays, just like the Christmas and summer holidays the year before, was spent with influenza. It is an early warning signal if you get sick when the body finally gets a chance to relax. The tempo within the organization made me worried about my own health as well as that of my colleagues. During the performance appraisal dialogue in August, I said that I should do my best by Christmas: "I am going to be very disappointed if the fall semester turns out to be like the spring semester." I did not get that far. More on that in the next section.
One more remark that belongs under the heading 'the benefits of hindsight'. We live in the age of multisport races. We hunt for happiness with a number on our jersey and skis on our feet. Or jogging shoes, or bikes. I have never been any athletic protégé, my teacher used me to demonstrate how not to throw a ball. I was never any good at football, with my flat feet and thighs that had to be operated on. But I got the hang of bikes. The year I turned 17 and old enough to do it, I signed up for world's longest one day bike race. It took me 25 hours, so the boastful story had to wait until I finish within 24 hours next time. But when I did stunts like that in addition to an overflowing work calendar in 1997 and in 2015 by taking part in biking marathons, my body punished me severely.
Now, when I look back, it is so easy to see the idiocy. It wasn't so easy to realize while doing it. Our ability to narrate stories the way we wish them to be is a strength that can be used in a healthy way. But in this case, both the ability and the willingness to adopt a holistic perspective were missing. Lacking the ability to feel? No, I am really sensitive. Lacking the ability for rational thought? No way! But the capability to use my own feelings in my analyses are not my strongest suit. If the feelings get in the way of reaching the goal, I just brush them aside or overlook them totally. Do you recognize yourself here? There are many ambitious, positive and talented people who have ended up with the diagnosis "burned out". Too many of us experience variations of this. My motivation for sharing my story is to help people see the ditch before they drive themselves into it. Then you do not have to go through the next sections. But if you decide to go on – it is not dangerous to be burnt out. It sounds fatal. Us, car-lovers, love to burn it hard; but the needles can't continue to stay in the red. That is when one needs an overhaul. You can read about mine here.
Kissing Disease
"The drop cannot be blamed for the full glass"

23 October 2015 was a Friday and a holiday, the beginning of a long weekend at the cabin. First day after months of hard work and the first day that the body was allowed a leave of absence. Strange how the body holds up until it finds a suitable moment to take over. It first appeared to be an ordinary flu or a rather strong cold. Tiredness, difficulty breathing, eyes refusing to stay open. When the initial sick leave was over, I suited myself up and went to the office, but stopped on the way at a private clinic. The doctor sent me home with a diagnosis "psychological imbalance, situational". Whatever, I thought. I just wanted to go home and go to bed. The future will show that there is nothing wrong with my psyche, I told myself. It would later turn out that psychology would take me closer to a solution than physiology.
The blood test came back with mononucleosis, or kissing disease, its more beautiful common name. Few diagnoses can claim to be so beautiful! My testing positive for mono was not because of kissing a new date, but rather due to old strains that were lying dormant in the body. Interestingly, a number of people in an exhausted condition similar to mine say that it all began with mono. The ME women (all ME affected people I knew were women), fallen out of good active lives with impressive achievements at school and sports or other areas. Suddenly they were affected by such a virus and were taken out of the game for months, for years in many cases. The chronic fatigue experienced has neither any apparent physiological reason nor the continuing presence of a virus infection. It took me more than half a year to realise the similarity, but after a while I began to use the description myself: "I am like the ME women". Most people knew someone with ME; so, when I told them that my symptoms are similar to ME, it made sense to them.
The sick leave period was drawing to a close, with me waiting the whole time for the symptoms to go away. "In a couple of days, maximum three-four days, I will be back on my feet", I kept telling myself and others. I had hardly met my GP before, but she saw the big picture the moment I walked into her office. When I got back home, I asked my wife if she had called the GP in advance. "I am going to ask to you to take sick leave till Christmas", the GP ordered. This was in the beginning of November. To get such a serious diagnosis was like getting punched in the diaphragm. Me, on sick leave for two months? An eternity. You would be really lucky in such a situation to find someone who believes in you. Thoughts of self-reproach about being a hypochondriac or being infirm plague the mind or thought about what other people would think about me now. The mistrust that is inbuilt into the social security system when following up people like me comes as an additional burden. There are probably no easy solutions to this since there are indeed some people who exploit the social security resources; but it is unfair that the 95% who are responsible people should bear the consequences of the actions of the five percent who exploit the system.
It took yet another visit to the doctor before I got the label "burnout". The codes that the social security system use, and, consequently, the labels one gets, do not contribute to improving one's health. On the contrary, it works against you. I care for the language used because it can help or hinder the healing process where patterns of thought play a very decisive role. That is why the concept "burnout" is dangerous in my opinion. Imagine a piece of land ravaged by fire where there isn't much to be salvaged.
Here lies the pedagogical trap and the health-politics dilemma: we use words strong enough to warrant sick leave thereby extending the unpleasant condition we are in. Doctors live with this dilemma every day. When it is best for a patient to be fully or partially on leave from work, the doctors amplify the problems so that the social security is convinced of the diagnosis. But the truth is that you and I would like to look at ourselves as totally normal people with normal bodies that react in normal ways. My body was not sick; it was behaving healthily when it ordered a leave of absence! My point of view that I should and could keep working even when I was on sick leave, sitting like a fool under a blanket with closed eyes and participating in a telephone conference as if the world would come to a standstill without me – THAT was sick.
Three days after I got the label 'burnout' and I realized that it is going to take time, I decided to take a break from Facebook. It felt like jumping off a cliff at that time. I clicked 'publish' and lay on my bed that night, unable to sleep. I understood afterwards that it was both important and smart to do that:
"'Open, healthy and creative' are the best core-values I know of. Many of my Fb friends might also know these as the foundation stones of IKT Grenland. I continue to aspire to live by these values. Hence this message on my vulnerability: my body thinks that I have been a poor boss to it over the years. Now the body has taken over! It has applied the breaks and I am made to sit it out for a while! Not very serious, but I don't have much to contribute. And good enough that I am getting new experiences – will come back the wiser for this. In a few weeks. I think.
Take care!"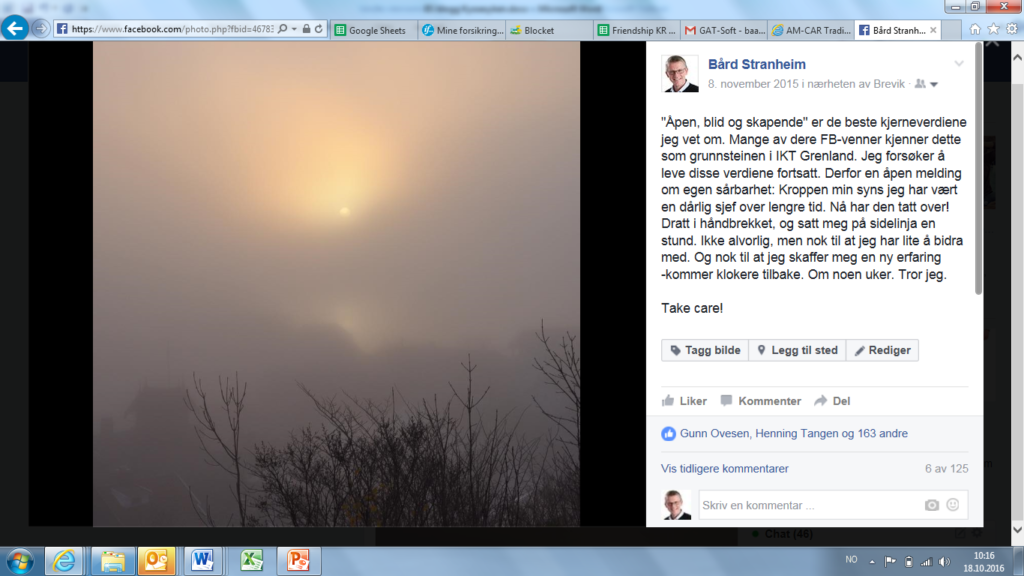 How open should one be? It is difficult to say, we all have our own personalities and ideals. I think that it is smart to give enough information that people understand the headline; but not too much information that one feels naked – I would keep that for the closest people, and you do need someone close to you during this phase! If you are lucky enough to be close to one of us who have fallen out, remember that you do not need to have the right answers or come up with all those good suggestions to solve the problem, just continue to be close. The only thing you need to come up with are stamina and love.

Reconciliation
"God, give me equanimity to accept the things I cannot change, and the courage to change those that I can, and the ability to understand the difference."
The days of sick leave evolves, slowly, but surely. But not completely, the days find a rhythm, with the feeling "I am tired" as the undertone. It permeates everything. I can't bear much, need to lie down a lot, need to say 'no' to most, and the safest place is a sofa with an audiobook in my ears. To read, on screen or on paper, is too demanding. Mobile phone and glancing through pages that doesn't require reading from A to Z are somewhat OK, but the tablet expects more from me, the worst is the computer. We fall out of friendship so much that I don't turn on the PC for months. Just the thought of opening Outlook fills me with anxiety. My body remembers so clearly the overflowing mailbox in the mornings, after a morning meeting that took a couple of hours, there were 50 people who expected me to respond. Twitter was the same, the body remembers so well all this apparently harmless social media that turned a Friday evening from a well-deserved unwinding time to fresh agreements and expectations. And the ringing telephone is sending phantom vibration along a worry organ I did not know I had in my body.
It can be nice to meet people, for a little while, then it becomes tiresome. Even my best friends, one of them said that he had a ten-minute audience in the beginning. It increased gradually to half an hour, after half a year, I could tolerate a couple of hours with some of them, while most of the others drew a "not now" card. I used to be a very social person, never got enough of having people around me. At all those organisations that I have led, I always dismantled the walls so that we could work together closely – the closer the better. If I sat at the mall or at the airport to work, everyone within the circle of view gave me extra energy.

I never used the word 'anxiety' before, but afterwards, I realized that this was the most precise description of my reaction to a number of normal activities and challenges. Everything I have described above points to anxiety. After half a year, we made an effort to take a trip to a familiar tourist destination in Italy. At the Gardermoen airport, my wife had already asked me if we should just go back home. After two days she asked again if we should go back. Flights were abandoned thereafter. Nine months later, we tried a ferry trip to Sweden. After that I realized that ferry terminals were as tiresome as the airports. The next flight tickets were for nearly a year after, to visit grandchildren who had moved to Warsaw, but they were thrown away unused.

In the middle of all this, it became totally normal to say 'no' to most things. It felt inconceivable for me that I would ever manage to be out in society, much less reclaim the zest for life.
I never used the word 'depressed', on the contrary, my mantra was that I am lucky to be not affected by depression. I know many people who have been there, and I know that it isn't dangerous, still, my self-prescribed medicine, perhaps self-deception, was that I always talked about myself as 'the happy guy'. I was always happy that I was alive, that I was not hit harder, and that despite everything, there were more things working than not working. In retrospect I understand the difference between being happy and being grateful. The latter was true…
This section is about reconciling oneself to the exceptional conditions. The most important reconciliation was to be with the guilty party who pushed me into this situation. It would have been nice if I had someone else to blame. If I were hit by something or someone, at least I could be scot-free then.
Wrong! That way, you will never be free – it would be someone else hitting you next time! You should not ignore what you need most to be the best you can be. Being in exile is because you made poor choices or avoided making difficult, but right, choices. Regardless, you are responsible. This reconciliation is the key to making yourself the boss of your own life, and you need a good boss when you are learning to walk again! Decide where you are going, if you can be generous to yourself as well, you are on the right track. You can do this by dropping self-criticism and guilt, among other things. The latter doesn't take you forward, just makes you powerless. It is taking up the responsibility that will give you agency.

Most of the people in such a fog have trouble talking to oneself in this way. What one can say to others is even more difficult. Fooling oneself might have a noble purpose, but fares poorly over time. How can one find a balance where what one says is true, nevertheless doesn't reveal too much?
Before meeting my colleagues for the Christmas party last year, a social shock for me, I chose to send an email to them in advance. It protected me from answering a slew of questions like "how is it going?".
E-mail, sent on 13 December 2015:
Optimal – the new wine
7 weeks without any contribution or value to creation are over, with more to follow, apparently. I announced my sick leave on FB, an investment (yes, it costs one to be open at times of vulnerability) that received large dividends. So many good people who gave me tons of encouragement, care, invitations – more than I can answer as warmly as I would like to. But once you say A, you need to follow it up with B. So, I am continuing with the openness both for myself and for the benefit of others who might be in the same boat as mine.
'P02 – psychological imbalance, situational' is the label the GP has given me. A very good GP, by the way; so good that I asked my wife if she had contacted the doctor in advance since the GP understood the picture so fast. Or maybe I am a classic case that it is no magic… I know, this too is classic, that I push psychological labels away. It is just the body that has said 'stop'! I am neither weak, nor melancholic or depressed! I have always had poor contact with the 'psyche'. I like to believe that I am made of body and will power… I am very satisfied in the middle of all this that I still manage to be happy about everything that works, and there are more things that work than those that don't, even though the number of ways in which the body is asking for a sustainable life style has been a long list… This week, I opened my PC and sent three emails. Then the eyes refused to do anything more, strange, but physically shutting down the 'look at the computer screen' function, and cognitively, so many functions are missing that I lose track of conversations, or even the names of the people I like. However, this is nothing unusual, I know. The powers of concentration and memory will come back eventually, or so I am told.
Free of all worries? No. I wonder in between if there is something seriously wrong, if I am ever going to come back to those challenging rolls that I thrived in, afraid of the negative spiral effects this kind of an exceptional situation can lead to and wonder now and then about what others might think. Being stamped as a social security recipient, being on the dole. "How can he say that he can't manage to do B when he is able to do A?". Even my mother thinks that I am looking good.
I spend more time to cheer for the fact that we have a welfare system that makes it possible for me to log out completely. Above all, I am happy for everyone I love, that they get to see a weaker side of me is not an unhealthy thing for them or for me. Yes, the grandfather has fallen asleep right in the middle of making the gingerbread house; yes, best friends have to visit at appointed times. Telephone conversations can be ok if they are short and do not delve into serious topics. I am creating a small world for myself with enough room for the closest ones and the practical things. Fix the kitchen with my youngest daughter. Take the old cars out. Activities that aren't interpersonal, that can be done in my own tempo, with visible results; and I am in charge of the pause button.
Innovation Norway has been in a storm the past weeks. It is strange to be away from all that right now. My self-image is built on the idea that I can bear a lot, for a long time. I know a lot about the massive clean-up that Anita and others in the management are in now. It is also a part of what I have in my backpack. Few have the courage and strength to take up such a fight and even if it is not being done optimally, it is being done – necessary for our organization and hopefully inspiring for others. An interplay between power camps and bad company culture can be found in many organisations. It's time for tripartite co-operation, version 2.0! Hats off to the boss!
I will begin to work with the big challenge in the next round: What is optimal? It is perhaps a much bigger challenge than to become good at something tangible, like a particular area of expertise. It will be a part of further development. It gives me great happiness to be allowed to work with perhaps the most efficient and most ambitious lot in the country – entrepreneurs. Before I do that, I have something else to do for myself, a strategy process. If I do not figure out the optimal course of action, I am certain to be doomed and to be taken out of action…
Soma-lozenge
"Are you sure this is where you lost your keys?"
"No, it wasn't here, but here we have light!"
The dialogue above is with a man on all fours under a street lamp, searching enthusiastically for something. A good Samaritan offers to help and after a long search, asks a reasonable question. The person who lost his keys knows very well that he is searching at the wrong place.

I retell the story because I recognize myself in him. It has been a year since my exile from society. It started off as something like a viral infection, and for all I know, it was just a trigger factor. Behind the immediate cause was another reason, less apparent, and behind that, yet another. Like peeling an onion. That I lost the key to be functional everyday was the ultimate fact. The rest were hypotheses and search at places easy enough to search. Gastro, CT, MR, lab tests… Fortunately, the GP respected my refusal to use drugs, although she was shaking her head about my attitude to even the mildest of those drugs. I am pretty sure that, in 10-20 years' time, we are going to shake our heads about the way we use medicines now. That is why I am unwilling to be a guinea pig. Used correctly, the medicines are a blessing, but in many cases, they can mask our natural reactions to an unbalanced lifestyle.
The first medical consultations around my diffused responses began 18 years ago. The doctor implied that the problems might be related to lifestyle. I wouldn't have any of that. A friend who suggested something similar risked the friendship. Such a friend. I am such a healthy and strong man, physically and mentally, that the problem must be purely somatic! The specialists and alternative therapists had their own opinions, too.
Up until the breakthrough during 6-8 September (more about this in the last section), I was investigating. It was nice to imagine that my problems could be explained with a somatic diagnosis, I looked at myself as psychologically healthy and strong. This soma-lozenge I liked to suck on – I should have put it away much sooner. Perhaps the GP should have thrown it away, too.
In addition to this, one deals with all the well-meaning friends who knows someone who has suffered from one thing or other and comes up with good advices for further investigations. I listened to each one of them with gratitude, because I know that the underlying reason is their concern for me. I discussed some of the suggestions with my doctor and listened to her assessment. I think that is the smart thing to do in most cases. If you don't trust your GP, the alternative is to switch to another doctor.
I had to use crutches twice in the sick leave period. A minor operation because of a knee that had been making noises for many years now and disliked being on the sofa all the time. And a fractured bone. Ah, it was so good to walk with crutches. Everyone understands a broken leg. But fatigue syndrome? No way. This makes for a good illustration of our preference to suck on the soma-lozenge. Physiologicall reasons and pathology are stuff that we like and understand whereas we more or less don't like or understand the psychological reasons.
It is easy to explain this away saying the mental illnesses continue to be stigmatized. But it is not so simple! It is no longer a taboo to admit to a psychological problem – former prime minister Kjell Bondevik publicly admitted to having a depressive episode while in office in August 1998. I believe that a more important explanation can be found in our erroneous attempt to understand life through specialized compartmentalization. It began when science built a wall between the priest and the doctor. We replicated the division by building a wall between the mind and the body. Add to this a dose of arrogance from the specialists who believe that they know their field better than others. Body, soul and mind go together. The current research on how our brains function is at the level where technological advances stood many generations before. At the same time, our generation tries to stretch everything to the limits: social relations, social media, the fusion between career and the rest of the life, productivity, relativization of ethics, so on and so forth.
Innovation happens when we use familiar things in new areas, or when we combine something in a new manner. It is going to happen here, too. The litmus test for innovations is the first question itself: is the problem big enough that it is worth solving? Stress related health problems are the third biggest in the world. A surprising number of people who I talked to in the last year either had been out of gainful employment for a while or had lived with someone in such a situation. The total number of cases of ME in Norway has tripled in the last six years.

I will write about how I climbed out of the pit now. The key wasn't the soma-lozenge, not the psycho-nutrition-exercise regimes or take-the-time-you-need lozenge.

NAV-igating
Navigare necesse est.
One year out of employment has given me some challenges and taught me some lessons. I would not be here without that experience, because I believe that the lessons have given me better quality of life in the last one-third of my life. And, hopefully, in the last 10-15 years of work life as well.
The first one was the hardest lesson: How do you handle the disappointment about being unproductive? First and foremost, it was about not living up to my own self-image: "built to endure, to be tough and strong". And then there is the lesson about letting others down. My customers, who rely on me to be there for them tomorrow and be with them during a phase in which they need help the most. My CEO, who trusted me to manage the most exciting responsibility at Innovation Norway, namely, entrepreneurs. My colleagues, and especially her who had to take up my responsibilities in addition to hers.
It only gets worse for me later – disappointing those I love most. Entire family suffers when one suffers. Most of all my wife, who has tolerated me all these years, with the constant expectation that "everything will be better soon, just a little hectic right now".
I was lucky! I met a CEO who immediately said, "we will wait for you, take the time you need, a radical sabbatical can be good both for you and for us". I had customers and colleagues who all said the right things, and I believe it came from their hearts. I had a wife who tolerated this phase in my life as well. Many experience challenges that are very different from mine, and it hurts to think about all those who are on their knees and had to bear the weight of an unsympathetic environment in addition to their suffering.
What about NAV – the social security system? Yes, that is yet another lesson. The disappointment of living on the dole manifests through meetings with the usher, the NAV contact. Again, I think that I was lucky, because I have heard other stories. Yet, my relation to NAV had its share of challenges associated with the long-term sick leave.
NAV is dependent on pre-conceived measures in cases such as mine, "Getting back faster" programme and offers about psychologists or other experts, for example. As if one can deliver a baby in half the time by employing more than one man to do the impregnation. But the rules of the game with NAV are such that it is smart to say 'yes' to the offers. It makes life a bit easier for my doctor, and for me. Again, I was lucky with the psychologist. We had a number of conversations that, I think, he also enjoyed. He taught me meditation which I continue to enjoy. He is a nice person, I would like to include him into my friend circle. But was it enough to rebuild the burnt-out mindscape of a 54-year-old?
The biggest dilemma in this situation is to find out how one should think and act without waking the monsters. The monster is the pervasive surveillance one feels subjected to: everything you do and everything you post on social media are scrutinized with the question "is he really sick?". I would like to do as much as I can, but does that make me look not-sick? I would gladly post something in the social media that doesn't make those 1000 friends I have on Fb to express their sympathy – sympathy is the last thing I wish for. If someone sees me going into a café with a smiling face, that little running commentary inside my head is turned on and begins to wonder "what would they think of me now?" This paranoia doesn't do any good and accelerates into negative spirals. I avoid doing things that are pleasant, because I feel that I have a role to play.
Talk to your closest people about this and get the ghosts out in the daylight to correct the thought patterns. Talk to your NAV contact as well. They are also people, with a job to do. The most difficult balancing act I had to do was my involvement against the toxic waste disposal at Brevik. You can find TV uptakes, interviews and blogs on the subject where I am one of the critical voices. Naturally, NAV called me, but they ended up supporting me in that it can be good to have something to engage in and wished me a speedy recovery. It helps to be open about the issues that others don't see, people are often privy only to the façade. Behind that façade was a man who sometimes managed to squeeze out a drop from the lemon in the form of a rough draft of a post, which my wife or friend shaped into an article. However, the question is still at large: "was it a smart thing to get involved in such a fight when I was on my knees?" I would do it again. The most important thing in life is to follow my conscience.

Kiss from above
The proof of the pudding is in the eating!

Two months after I went on sick leave, my HR-manager suggested that she could connect me to a woman named Live Landmark. Live uses the Lightning Process to help people come back. Not an unfamiliar method, as I know a couple of ME women who had found their feet through it after many years of exile from employment. However, I was more than skeptical to the suggestion. Almost offended. I said to my wife, "I am sure that the HR-manager means well, but when she recommends a controversial ME medicine, it shows that she doesn't know me. I am not there! I believe in Lightning Process, but for a different target group than mine!"
After eight months, the HR-manager mentioned it again. What do I have to lose? Have I gotten better in the last months? No. Quite the opposite, in fact. When LP was suggested the first time, to use metaphors, the cost was taking one of my cars out for a drive. The second time the suggestion came up, I was relying on train if I didn't have my wife taking the steering wheel half way between Oslo and Breivik. I had to make a regime around food because I tolerated most of the things in life as poorly as I tolerated people. The engineer in me had a table with 13 categories that was followed up regularly from the first days of the sick leave; it solidly documented my new shattered self-image. The GP was still of the opinion that I "responded positively to rest", and that was my only life lie. Obviously, it was the life lie of the GP, too; neither of us really believed in it.
I contacted Live! She was busy but sent me a text message that she will call me the day after. She called, and as I was ready for something, anything, she didn't have to do more than a tiny portion of the pitching before I jumped to the only thing that I wanted to know, "when can I begin?". But it was not that simple, there was an admission process – there was an application form to be filled out followed by an interview. And I was asked to read her book or, alternatively, the audio book from the founder, 'Introduction to Lightning Process', since reading was not a part of my tool box at the time. My wife read the book to me, and along with the audio book, I managed to swallow the bait. If it works for people with "chronic pain, anxiety or fatigue syndrome", I can master this, too! The method was so logical that I thought I didn't even need to attend the course. I almost tried to advance the healing process and lay sleepless the whole night when I got a clear signal that I can join the next course in 13 days. It occurred to me that I might be the first one to crack the code without ever attending the course, but impatience and confidence in my own intellect got me running ahead of myself as it had on many occasions before.
The founder's background as an osteopath persuaded me. In other words, he comes from a background that believes in people's inherent resources. I also liked it that he talked about the sorrow he felt for the people he could not help. Like any other innovator, he used building blocks that were picked out from different contexts. I was already familiar with cognitive therapy and neurolinguistic programming. The way these were integrated into a knowledge base built from the research on body, brain and the connection between them seemed credible enough. I also knew that there are many who criticize the method, especially the ME associations. However, regardless of the perspective one embraces to pick LP apart, it is impossible to argue with the results. My exile from work has been relatively short, but the stories of people who had been out of employment for years speaks for itself. The proof of the pudding is in the eating!
I declared myself healthy after the first day of the course. After the second day, I struggled a bit, and remained awake late into the night until I realized that I can relax and let the result come from the method, not from me. After the third day of the course, I started using my body normally. I booked flight tickets to go to the grandchildren in Warsaw, and the anxiety that stopped me from travelling last time was totally absent!
Five weeks after the course I started to work again, gradually increasing the work load. I had received the gift of life again. The joy in meeting people was back, the bike ended its 13 months long hibernation and I could eat and drink with appetite. I caught myself walking around with a smile. During the best nights I slept until the alarm went off – I was rather young the last time that had happened.
Oh, yes, the symptoms turn up sometimes. It takes time to build new tracks, new ways of thinking, acting and speaking to oneself, and I continue to work with that. But I know that it is working!

"What do you think about this?" Live asked me the last time we talked, she follows us up regularly. "I think that God has made us so perfect that all the resources we need is already in the design!", I answered. And I have experienced that the fatigue that starts with the kissing sickness for many can be reversed radically in an incredibly short time.
As a kiss from the above.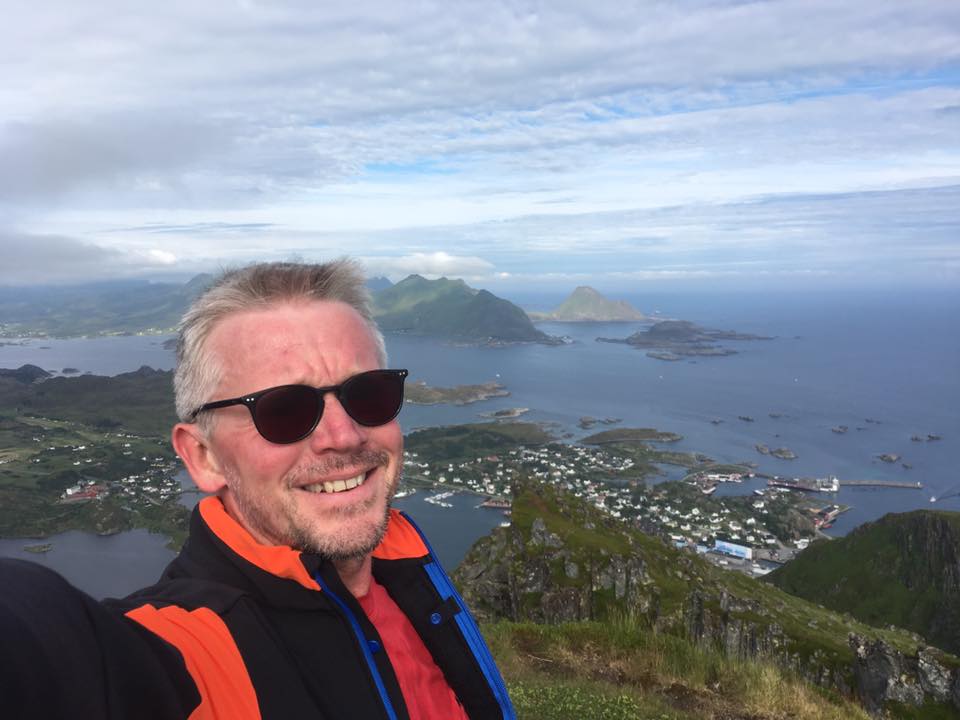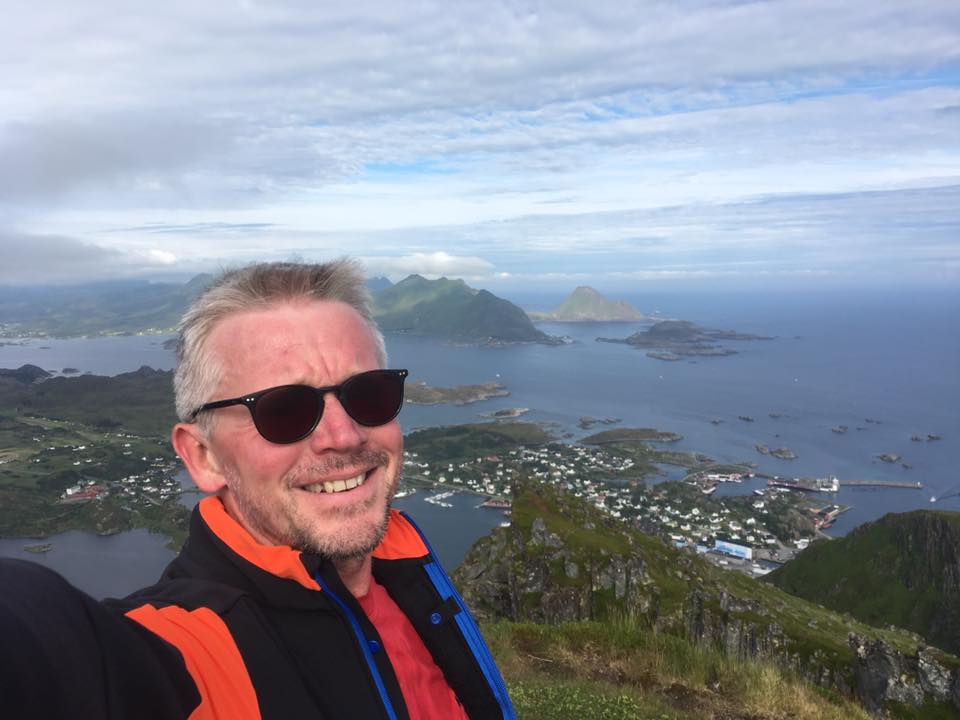 ---
Bård Stranheim first published this text on his blog in September 2017.