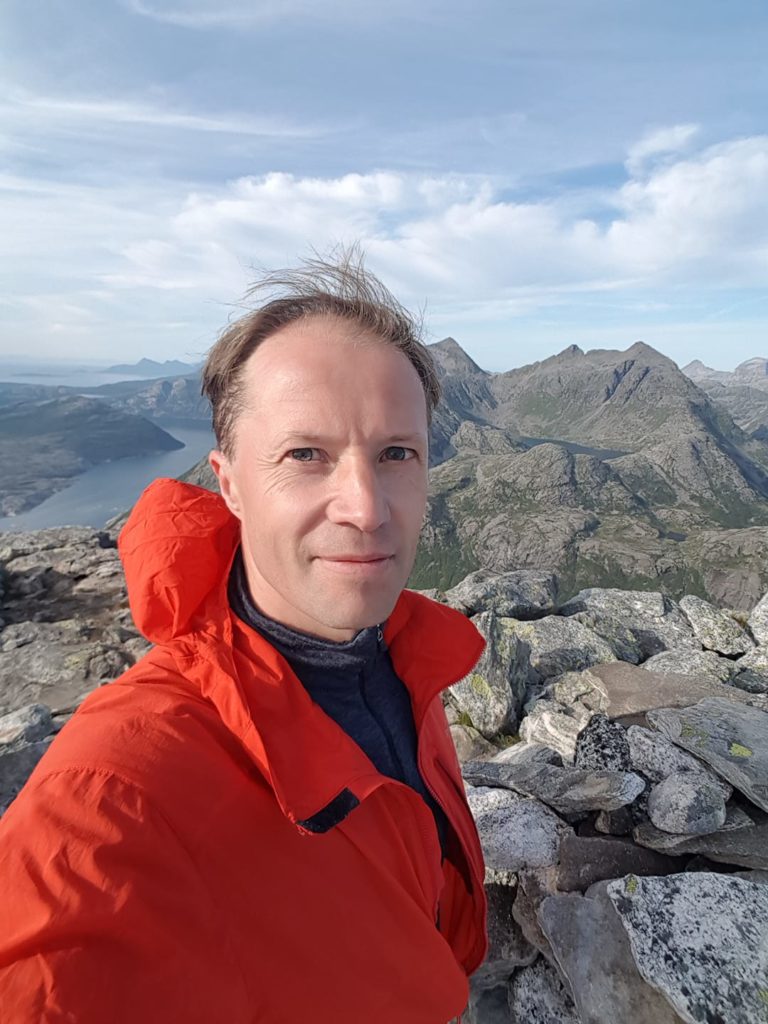 In 1996, I was a hot commodity, wanted by the U21 national team and several elite football clubs. Everyone wanted me to reach for the stars. However, for reasons that would become apparent later, I instead took a year off. I wanted to do other things, but this step back from football was not what was expected of me. I didn't even touch a football that year, but I dabbled in probably 15 other sports such as snowboard, tennis and parachuting where the expectations weren't as high.
As soon as I started up again all those external expectations were back, and they were extreme.
As the year ended, I sought back to football which was definitely my great passion, and I wanted to win. However, as soon as I started up again all those external expectations were back, and they were extreme. The absolute best clubs approached me. Again, something seemed to disagree within me or hold me back. I didn't feel up to taking all the calls myself, so my brother Runar had to step in. I remember an impatient Rune Bratseth from Rosenborg calling once, with Nils Arne Eggen pacing excitedly in the background, but they were told that, for now, I had chosen to play for the lesser known Gevir.
A sneaking illness
It was the next year, in 1997, that the illness came sneaking up on me. Gevir had just won the last match of the season, but afterwards I could clearly feel that something in my physiology was not as it should. I sat in a corner of the locker room after the match with a seriously high pulse at 160 beats that just wouldn't go down. That was the beginning of it all, and the progress of the illness that would eventually be diagnosed as chronic fatigue syndrome or ME, was to last for 12 years. In the beginning, I stubbornly ignored the symptoms and kept playing. At this time, I was back with Glimt in the elite series, and so I kept reaching for more demanding challenges on the field as I was getting sicker.
I had several symptoms now. I was experiencing an extreme exhaustion that sometimes felt completely debilitating. I fell asleep in the strangest places all the time, and can to this day not remember who we were playing against or where in this period. I also had constant colds and several throat infections that eventually lead to an operation. I experienced that I was allergic or intolerant to a number of things.
I work in real estate and had apartments rented out, but at that time I ended up moving to my childhood home in Bodø for two years. I lost weight, going from 75 to under 60 kilos, and my five-year relationship with my girlfriend ended, partly because of the strain that illness can be on a couple. I was not in a good place physically, mentally or socially. I didn't meet up with friends or acquaintances, but saved all my energy for Glimt. In the end, I couldn't take any more football either. I remember my last match. I wanted more, wanted to keep winning, but I couldn't manage any matches for Glimt in the entire 2001 season. I transferred to Lyn in Oslo and stayed with them for two seasons without playing a single match. In 2005, I finally received the diagnosis at Haukeland University Hospital: ME or chronic fatigue syndrome. I had gone from being among Norway's biggest football talents to not even functioning.
I had gone from being among Norway's biggest football talents to not even functioning.
Travelling the world to recover
As a lot of others with CFS/ME and considerable loss of functioning and performance, I was desperate to recover – to find answers and a solution. Perhaps I looked for it particularly hard and frantically, but answers weren't easy to come by. The first diagnosis I got from experts in Denmark and the US, was "quicksilver poisoning". To my dismay, Norwegian doctors didn't buy that explanation. I ended up travelling the world being thrown between various traditional and alternative treatments. From 1997 to 2009 I visited about 100 practitioners, and in this way, I developed a unique insight into the range of offers people in need are met with.
From 1997 to 2009 I visited about 100 practitioners.
I have estimated that I used over 2 million crowns looking for explanations and a cure. I visited Dr. Kenny de Meirleir in Belgium, who by some is said to be a superstar within ME. In Minnesota they pumped me full of antibiotics without results. I was in Poland and Germany, and in Finland they tried to rebuild my system with vitamins and amino acids intravenously. I was in Cyprus and South-Africa in an attempt to cleanse myself of the quicksilver. I took a weekend course in cupping, tried homeopathy, healing, psychics and truthtellers. I remember talking to a healer on the phone and thinking that 'now I've truly lost it!'. I also contacted 'Snåsamannen', but he said he was no longer active within this field and that 'it's going to be ok' before he hung up. This was in 2008. I guess in a way he foresaw that correctly.
Finally, real help
The first time I felt I got some actual help was from the Swedish doctor Birgitta Brunes. She treats MS patients and was over 70 years of age at the time. She used dance in her treatment, working with a theory about releasing electrochemical signalsin the brain. I danced to pop music with this 70-year-old lady for two weeks. It sounds funny, but I experienced a significant power emanating from her. She focused on things that make you happy, and here I learned something that would help me in the future: every time you experience joy, you are one step closer to recovery.
Every time you experience joy, you are one step closer to recovery.
Having travelled across the globe searching for my cure, the paramount meeting that would lead me back to health actually happened in my hometown only a stone's throw or two away from where I was from. I heard of a doctor in Bodø called Arne Stenstrøm, and desperate as I was, I called right away and set up an appointment that afternoon. Arne told me that he himself had had ME. We had talked for a little while before he said something that completely shocked me: He could help me recover in no time at all!
What Arne Stenstrøm offered me was first of all one-on-one sessions that we held in my brother Runar's house. I can tell you exactly when it all changed. It was the third time we met in 2009. He put it so simply: Arild, you are a damned idiot. ME is in my opinion an inflammation that attacks the body because of too much stress. You have ME. Then you travel around the world to get rid of it and get back to football, which is the reason you have had such destructive stress in your body and mind to begin with. It is the reason for your ME.
That's when it all shifted. I saw it all clearly there and then, and I was suddenly on the road to recovery. This is how Arne understood my condition and largely how I see it today: It was basically caused by stress over time to perform at the highest level in something that I was very good at, but that I really didn't want to do. The way I see it, the chronic stress also causes disturbances in the immune system.
It was basically caused by stress over time.
After 12 years I was recovered. The pure joy this gave me was enormous. I quickly went down to NAV, the Norwegian Labour and Welfare Administration, where I had been on welfare since my late twenties. I asked them to stop all payments and had to ensure them that I really meant it.
Gradual retraining
At the same time, I hadn't used my body properly in seven or eight years and was in dire need of training. I created my own program and the first week I walked ten minutes a day, the next I increased by 10 percent to 11 minutes, and I kept going like that. After a year I could walk six to seven hours. To avoid lactic acid, I never ran – only walked briskly.
I would like to thank chiropractor Dag Myhre at Fauske, who stood at the centre of my recovery process. He is a specialist within the brain and nervous system, and helped me a lot. His treatment harmonized with the one I received from Stenstrøm.
When it comes to the Lightning process (LP) that others – including many members of Recovery Norway – have had positive experiences with, it is also based on a theory that ME is caused by a long-term stress response. I also tried it. During the course I saw several people get considerably better and some that recovered completely. I myself experienced more symptoms and stress when I used LP. Nothing long term, but I got temporary symptoms each time. This is easy to explain in hindsight. The LP-instructor had suggested that I 'take myself back' to playing on the football field again and 'bring back the energy' I had in those days. As football was a big reason for my ME in the first place, this wasn't helpful. I tried for a while, but concluded that it wasn't for me. The solution became a combination of gradual retraining and a total absence of football.
Football as a stressor
I really did leave football behind. I removed all traces of it from my life. It had triggered my illness. I didn't want to see anything that reminded me of it. I stayed away from mentions of football in the media and unfriended people on Facebook if they commented on football there. In the summer of 2010 I tried watching a quarter final in the World Cup between Argentina, coached by Maradona, and Germany. After all, I loved Maradona. But just trying to watch for a while resulted in an overwhelming feeling of stress and I could tell the old symptoms were returning. This time I knew what caused them, there was no mystery anymore, and I knew what to do. They quickly disappeared again.
Why did I get sick and not, for instance, my brothers?
Ever since I was little, I had trained twice as hard as anyone. As my father and brothers (Ørjan and Runar) had achieved so much on the football field, there was probably always certain expectations for me. However, as I understand it, the stress was just as much brought on by a great passion and enthusiasm over many years and my own expectations about what I would achieve.
The stress was just as much brought on by a great passion and enthusiasm over many years and my own expectations about what I would achieve.
What happened to me was that I never really switched it off. In the end I didn't even like football. It's impossible to say exactly where or when it became too much.
Similarities between people with ME
I've met many others with ME and have actually contributed to about a dozen recovering, through talks with me and training advice. I could see the similarities between us – how alike we were in personality. These were the recurring characteristics: we don't know how to say 'no', we work hard, we are very intelligent in some areas, but completely clueless in others, we are strict with ourselves, and we are ambitious. Often we've made a wrong choice in life. It can be the choice of spouse, career or something else that's fundamentally off, such as an event in the past we've never really dealt with – we may not be aware of it ourselves. Living with that kind of subconscious or conscious pressure over a long period of time burns us out. ME is in my opinion a burnt-out state that doesn't pass. For me it was football that kept my stress levels sky high for years before I finally buckled under.
I've met many others with ME and have actually contributed to about a dozen recovering, through talks with me and training advice.
No mystery
I consider the Norwegian healthcare system highly competent and professional. I have personally lived through ME, recovered, and even if it may seem big-headed, I genuinely believe I can see now how simple ME really is. That's why it's so difficult to understand why scientists, medicine and the healthcare system make it so complicated. I never got help and had to solve the puzzle myself. There seems to be a serious lack of knowledgeand the Norwegian system appears largely to ignore the psychological aspect of ME. I don't see any reason why a lot of people with ME couldn't get much better fast with relatively simple methods just like I did.
Today I'm living a privileged life. I run a real estate company and work out every day. I can even enjoy following football once in a while, but I never play.
---
Arild Berg has previously described his story in an interview with Bodonu.no, and a lot of this personal story is based on that article.

In June 2019 Arild Berg died, choosing to leave us. This reminds us that leaving ME/CFS behind does noe mean life becomes easy or problem free. As the priest noted in his public funeral on July 4, he unfortunately developed an addiction problem during the last years of his life. We continue to publish his story as it is still full of insight in agreement with his family.